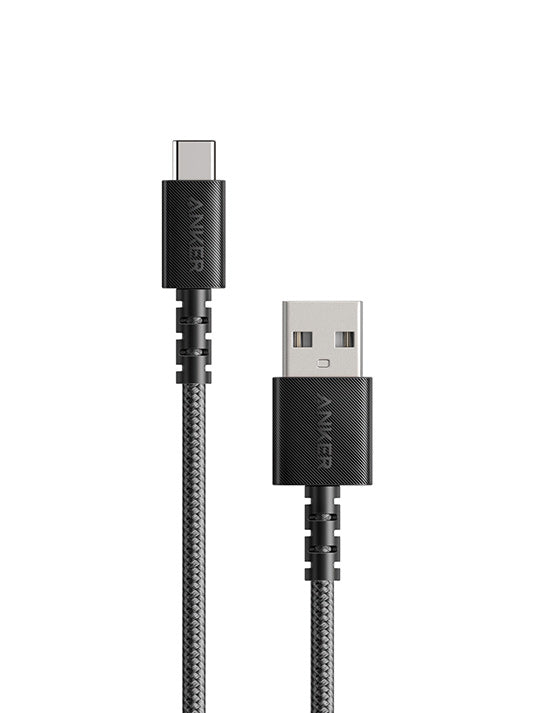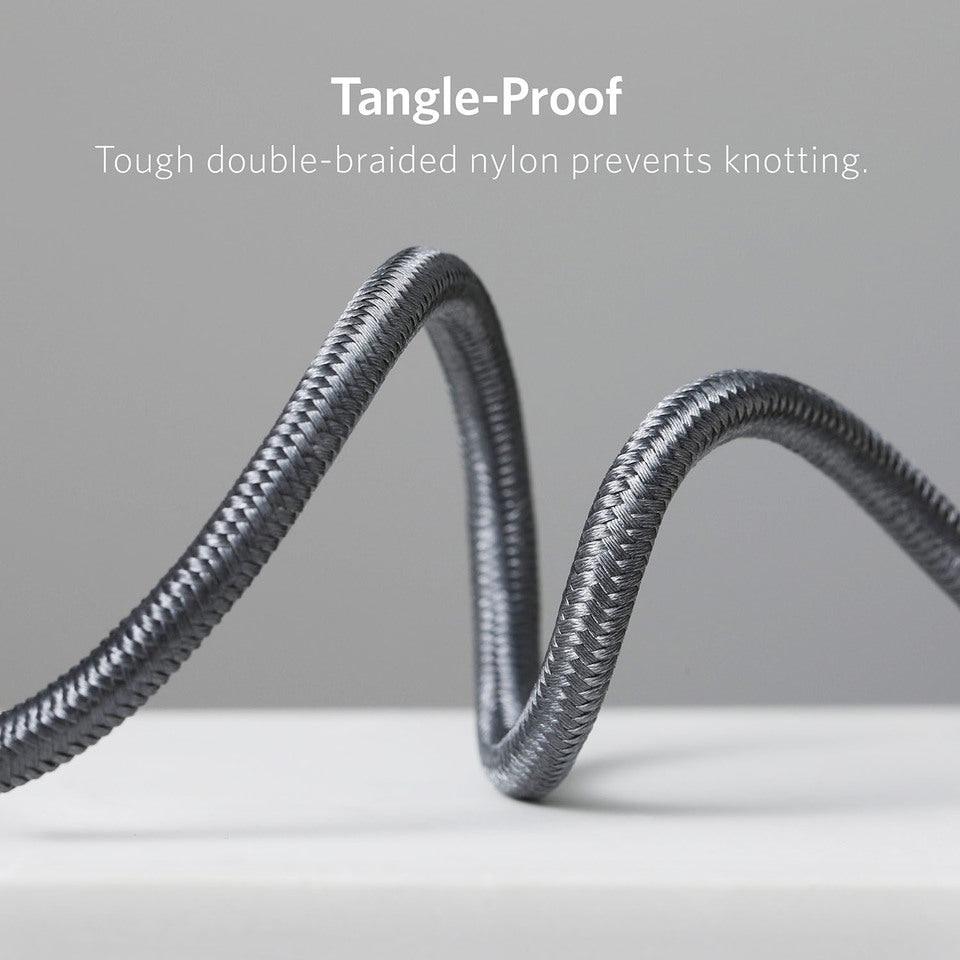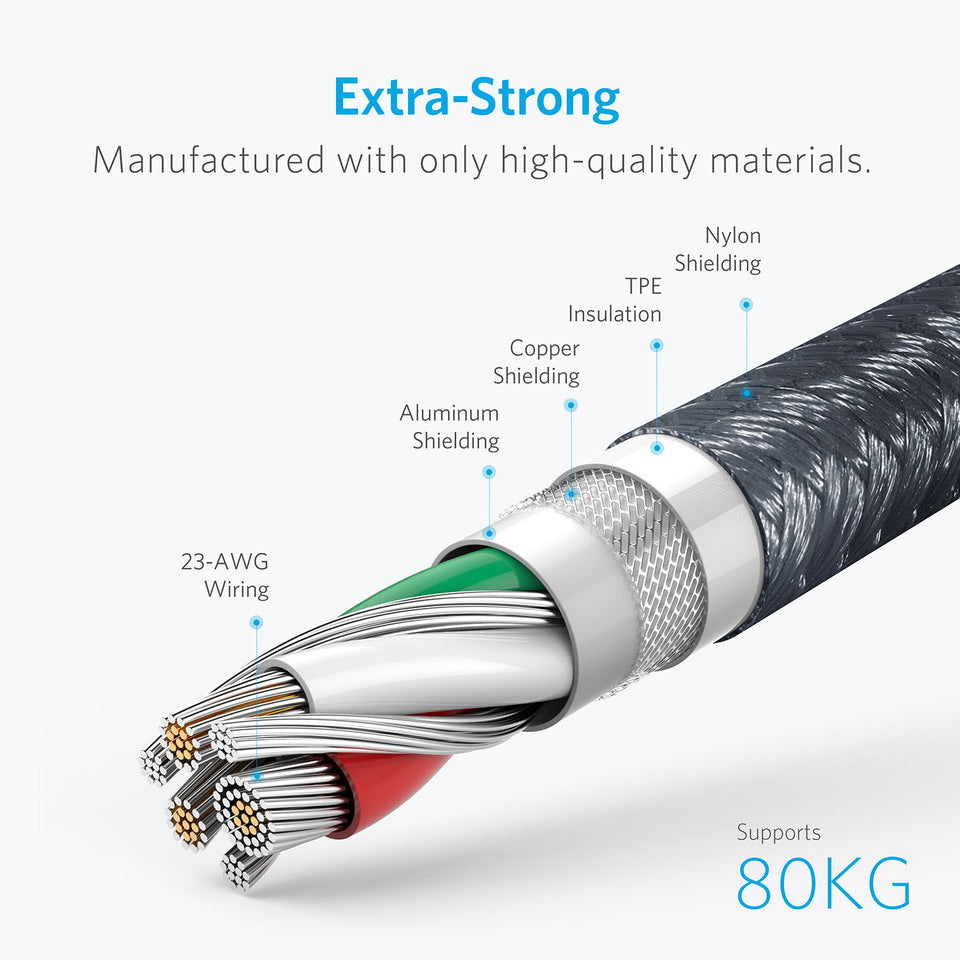 Anker PowerLine Select+ USB-C To USB Cable 2.0 Black
From ANKER, America's Leading USB Charging Brand

• The Leading average review rating of any charging brand.
• Fast charging via leading technology.
• Join the 30 million+ satisfied customers powered by Anker.

High-Speed Charging

Use any phone charger, portable charger or multi-port USB charger to charge your new MacBook, ChromeBook Pixel or other USB-C devices via this cable.

Hi-Speed Syncing

Transfer data to and from all your USB-C devices at speeds of up to 480 Mbps. That's an HD movie in less than 1 minute.

Staying Power

Lasts 30x longer than ordinary cables-proven in a laboratory environment to withstand 30000 bends.

Amazing Strength

Proven in a lab environment to withstand 15,000 bends.
Made of a Double-Braided Nylon Coating for extreme durability and tangle proof charging.
Strengthened connector ends to prevent breakage.

Outstanding Warranty
At Anker, we believe in our products. That's why we back them all with an 18-month warranty and provide friendly, easy-to-reach support.
PowerLine+ has been precision engineered to provide a secure and reliable fit with any USB-C device. Our rigorous In-house tests confirm seamless physical compatibility with all tested devices.

Fully Compatible Devices

- Galaxy S8/S8+/S9
- HTC 10
- Sony XZ
- LG V20/G5/G6
- Xiaomi 5

Compatible Devices (limited charging speeds)

- Nexus 5X/6P
- MacBook (2016)/MacBook Pro 13.3''/MacBook Pro 15.4''
- Nintendo Switch
- Google Chromebook/Pixel C
- Google Pixel/Pixel XL

Incompatible Devices

- Huawei Mate 9/P10
- MOTO Z/Z Force
- One Plus 3


• What are some things to remember when using USB-C cables?
- This cable is not waterproof. Keep the connectors dry. Keep your cable away from pets.

•Can a USB-C to C 2.0 cable be used with a Power Delivery charger to charge a Power Delivery-compatible device at full speed?
- Yes, as long as your wall charger and device both support Power Delivery, this cable can achieve a 60W charge.

• Can USB-A to USB-C cables support Quick Charge ?
- USB-A to USB-C cables are compatible with Quick Charge, but do not support Power Delivery.

• Why won't my USB-C 3.1 cable sync data at 5Gbps?
- Anker USB-C 3.0 cables offer transfer speeds at 5Gbps. Please confirm both connected devices support USB 3.0. If one of the devices is not supported, the final transfer speed will not exceed that of the device with the lowest maximum transfer rate.

• Why do I have a moisture warning on my phone?
- This is a warning from the phone's software. Our cable is 100% insulated and passed extensive testing. The connector will not retain liquid. As long as the cable is not moistened and the user has not made contact with water or other liquid, the cable is safe to use.

• Which Anker USB-C cables are certified for Type-C IF?
- Currently only A8485/A8465/A8481/A8482 have TID certification. We expect to release more cables with this certification in the future.

• What if my USB-C cable does not charge my phone?
1.Verify that your charger is capable of delivering a normal output, and that the port connector pins are not damaged or dirty.
2. Some phones use a directional variant of USB-C, for example Microsoft Lumia 950 XL, which must be connected to the cable only after the cable is first connected to your computer.

• Why does the USB-C cable not fit my device?
- USB-C port structures can vary depending on device manufacturer. If the port has undergone heavy usage over time, a new USB-C cable may not fit perfectly with the adapter or the device. Anker USB-C cables are designed for maximum compatibility with different port states and use cases. If you find that your cable is not meeting your needs, please reach out to us at shopanker@gocommerce.asia
The World's No. 1 Mobile Charging Brand*

200 Million+
200 Million+ Products Sold Worldwide

146 Countries
Available in 146 Countries

10 Years of Innovation
Pioneer in Charging Technology for 10 Years
In terms of retail sales value in 2020.
Data source: Euromonitor International (Shanghai) Co., Ltd., measured in terms of retail sales value in 2020, based on research conducted in 11-2021. Brands are defined as mobile charging brands if more than 75% of their retail sales are contributed by mobile phone charging products. Mobile phone charging products include chargers, wireless chargers, power banks, and charging cables, and these accessories can also be used for other consumer electronics devices.