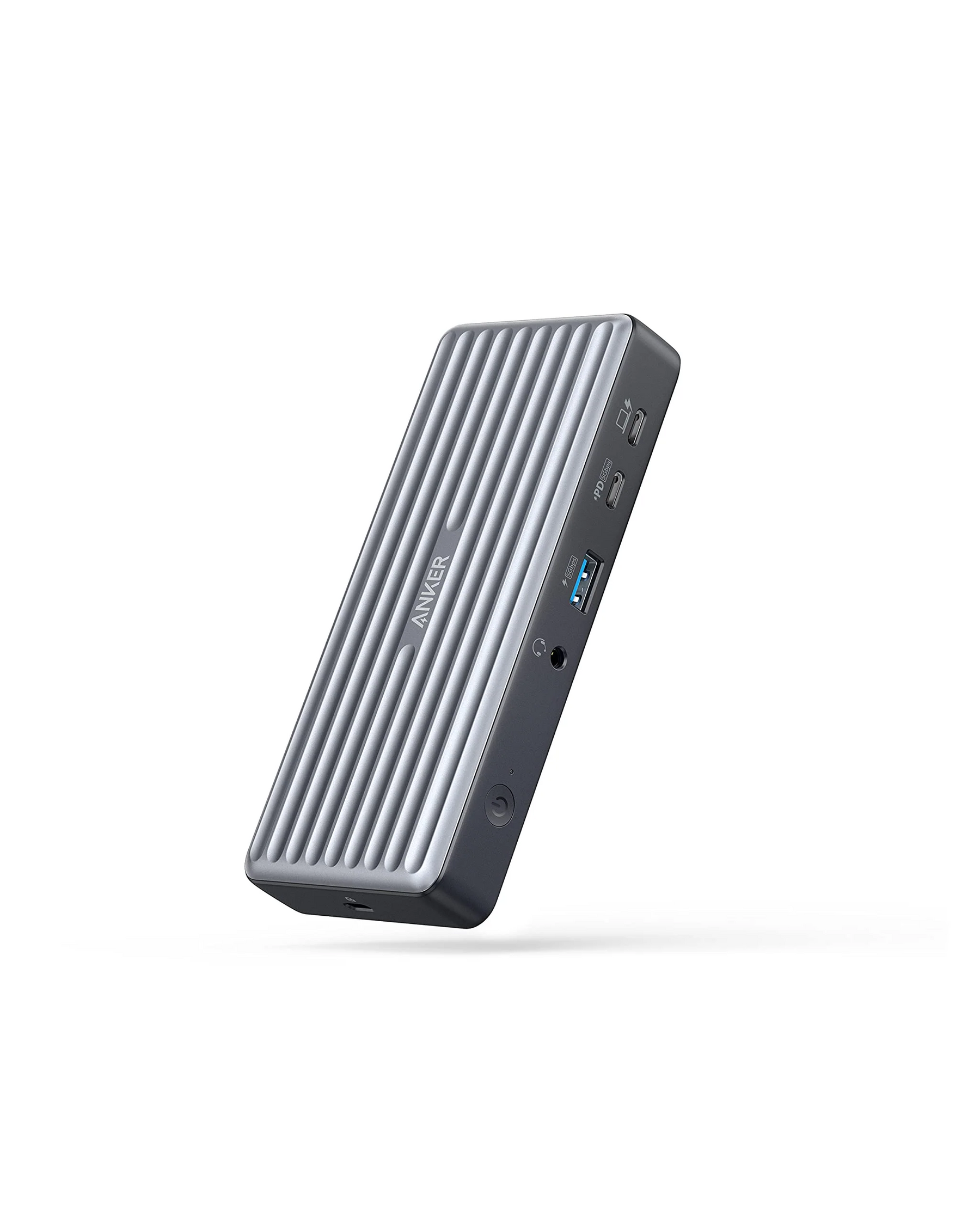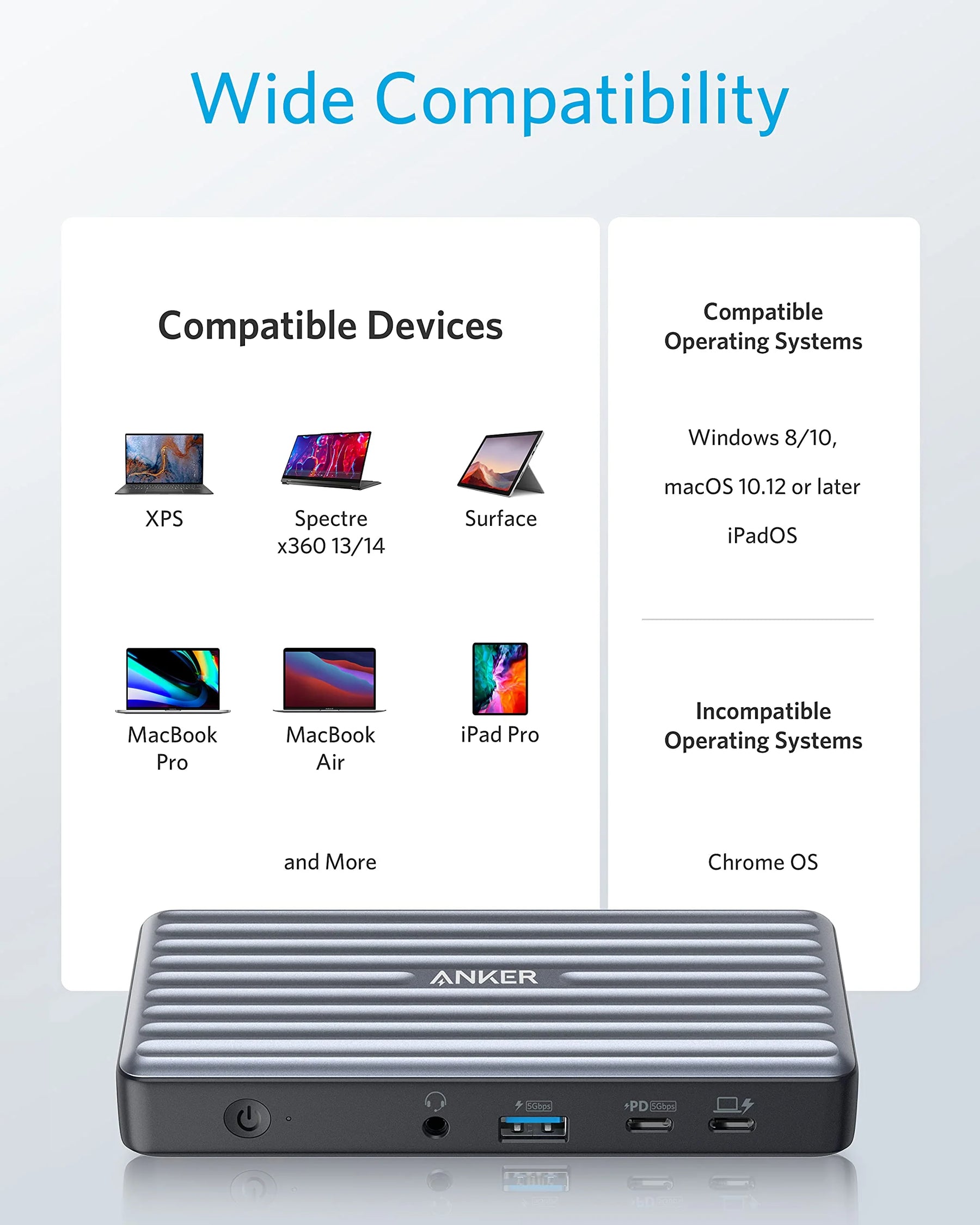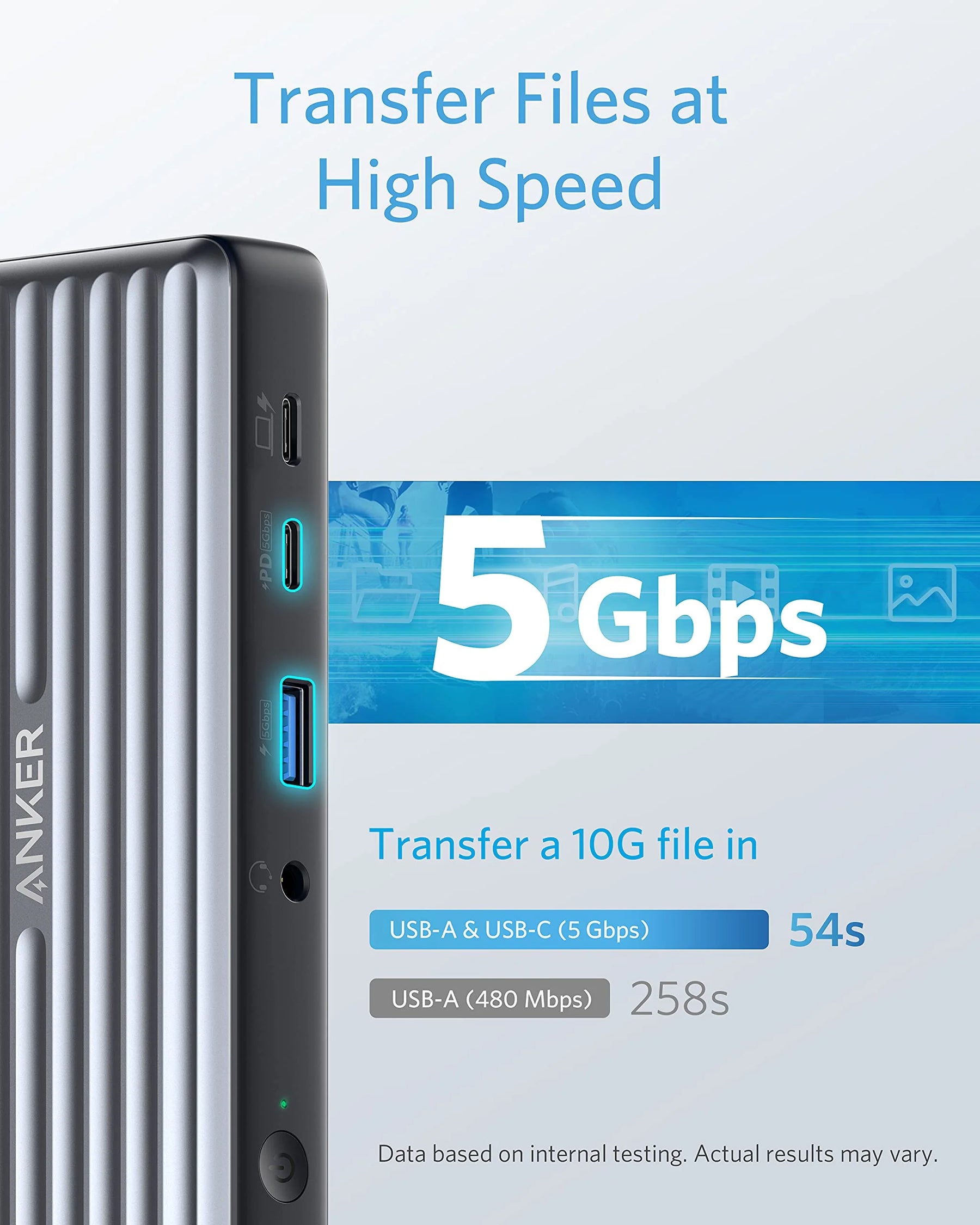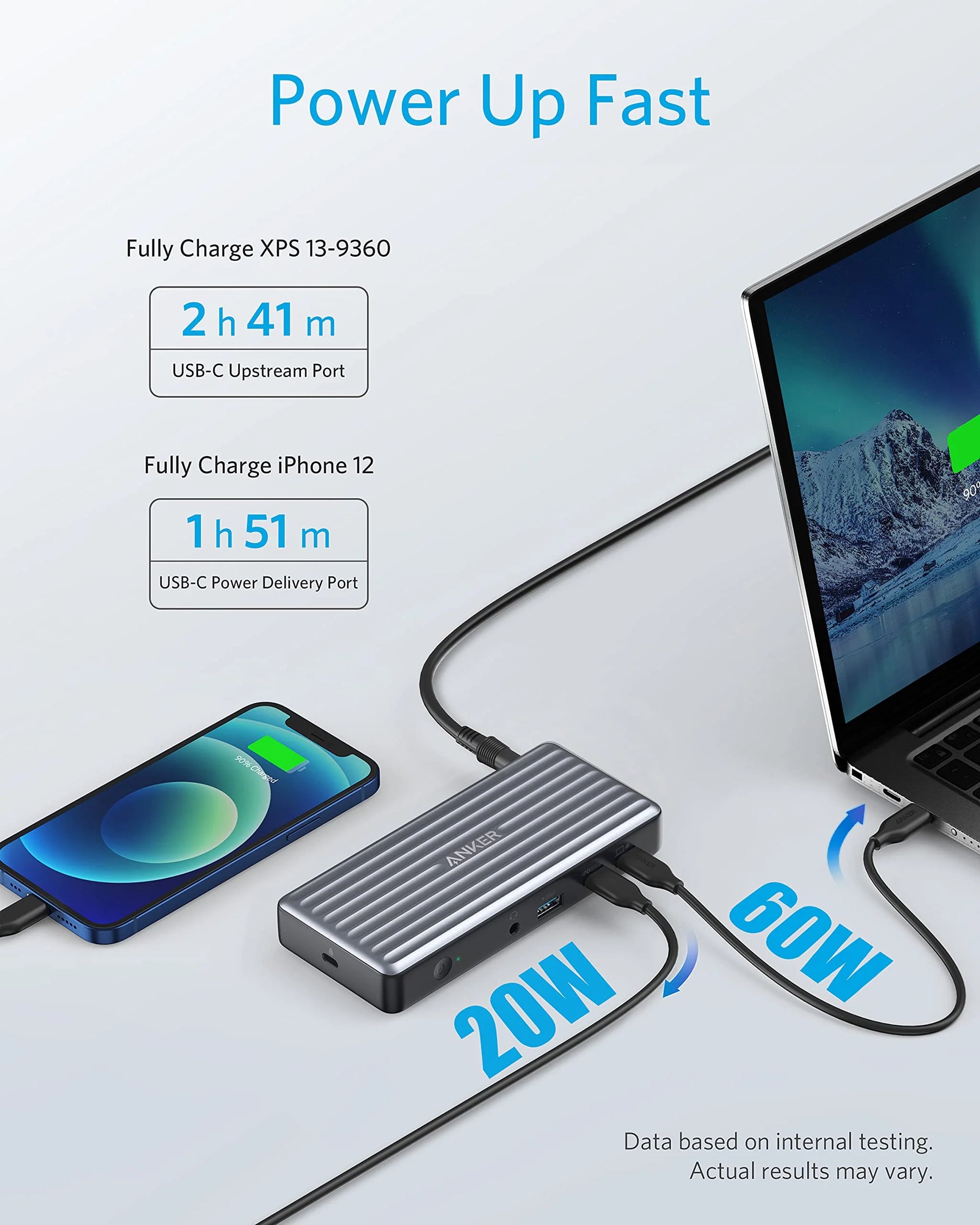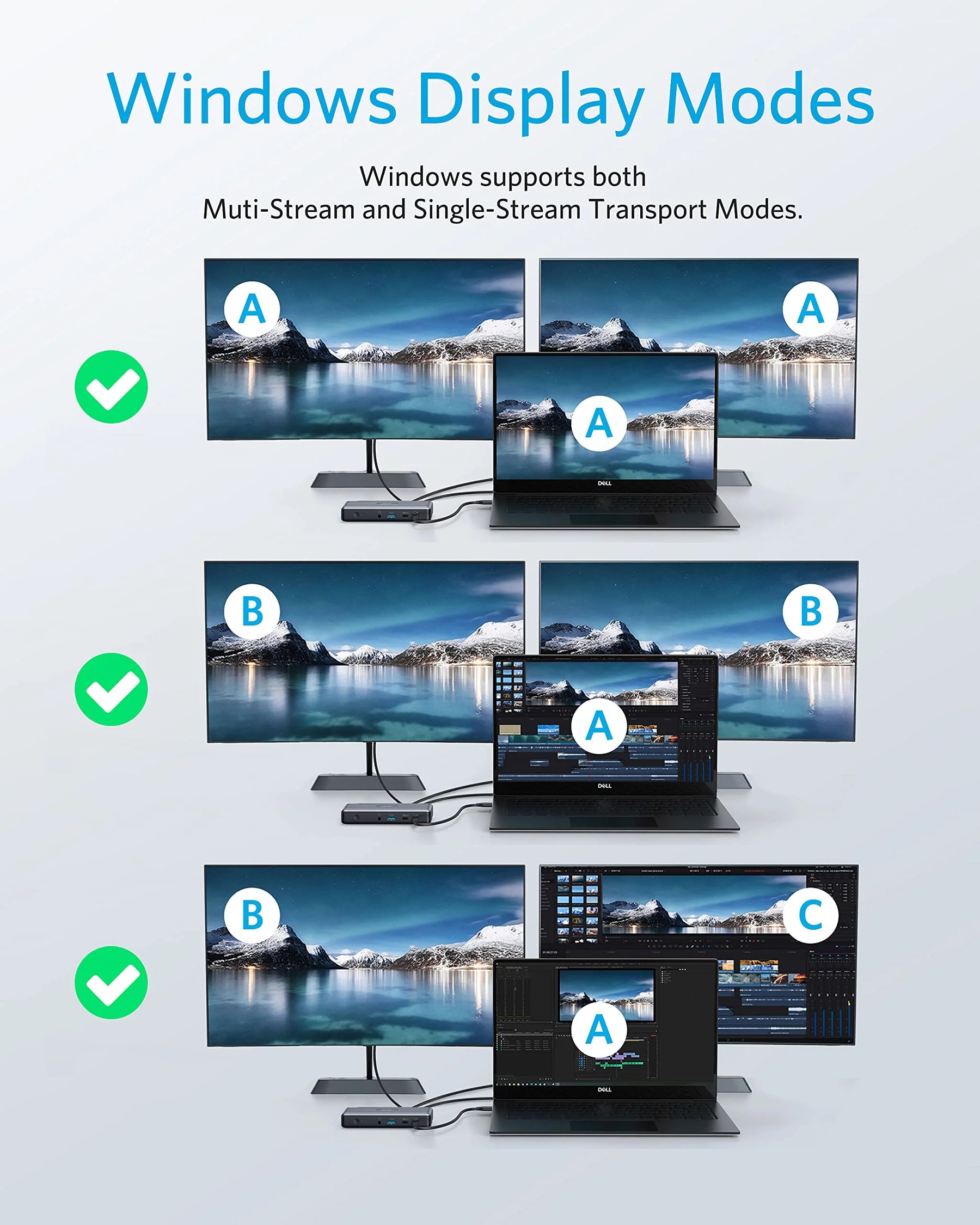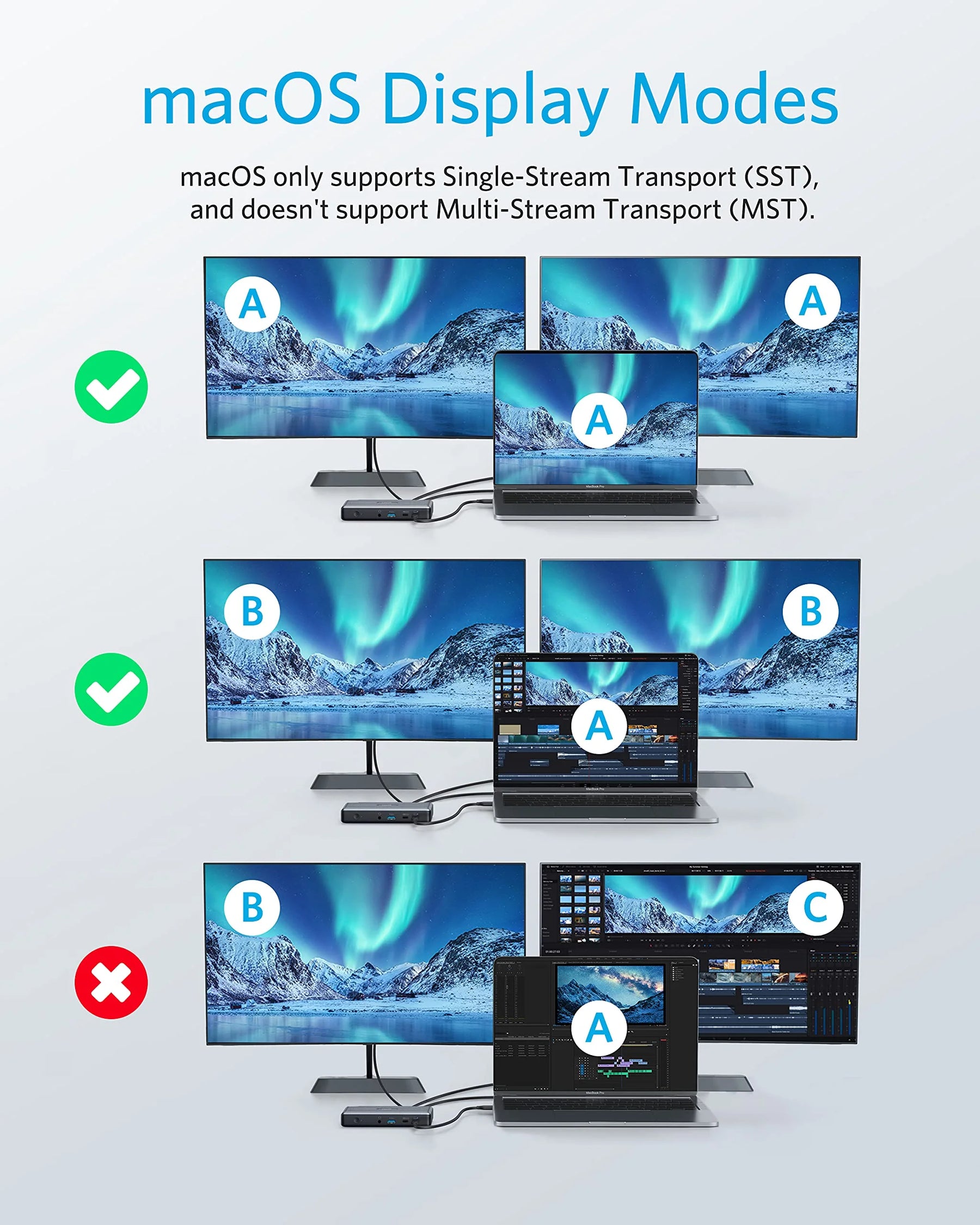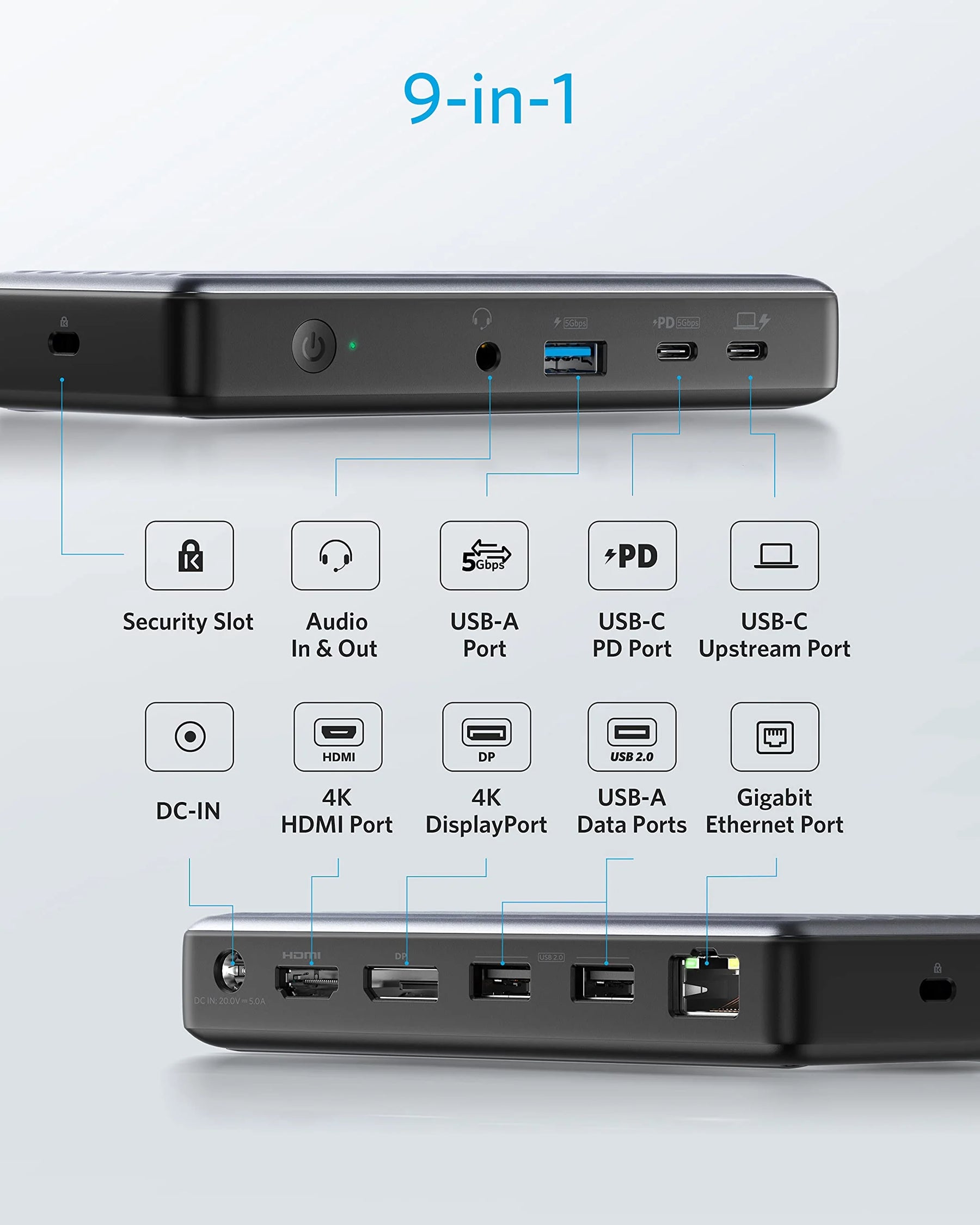 Anker PowerExpand 9-in-1 USB-C PD Dock
Expanded Connectivity: Equipped with 2 USB-C Power Delivery ports, an HDMI port, a DisplayPort, 3 USB-A ports, an Ethernet port, and a 3.5 mm AUX input.

Powerful Charging: Supports up to 60W charging for your laptop via the USB-C upstream port. You can also charge your phone or tablet via the 20W USB-C Power Delivery port.

Dual Display: Simultaneously stream media to dual monitors in stunning 4K@30Hz via the DisplayPort and HDMI port.

High-Speed File Transfer: Connect your thumb drive or external hard drive to either the USB-C Power Delivery port or the front-facing USB-A 3.0 port to transfer files at up to 5 Gbps.

What You Get: PowerExpand 9-in-1 USB-C PD Dock, 100W power adapter, 1.2 m power cord, 1 m USB 3.1 Gen 2 USB-C to C cable, welcome guide, 18-month warranty, and friendly customer service.

Increase Your Port Options
Transform just one of your laptop's USB-C ports into a total of 9 ports, with enough functionality to connect multiple monitors, transfer files at high speed, power up your laptop and phone, connect audio devices, and more. Also features a built-in security slot that can be used with a security cable (not included) to protect the dock against theft.
High-Speed Charging
The USB-C upstream port provides enough power to charge an XPS 13 in just over 2.5 hours, while the USB-C Power Delivery port can charge an iPhone 12 in less than 2 hours. The forward-facing USB-A port can also be used to charge smaller devices like smartwatches or headphones.


Upgrade Your Display
Instead of trying to manage all of your apps on a single laptop screen, simply connect to two external monitors via the DisplayPort and the HDMI port to enjoy the convenience of a larger, extended display.


Access Files at Speed

Transfer movies, photos, and music at speeds of up to 5 Gbps via the USB-C Power Delivery port and the USB-A 3.0 data port.


FAQ

Q1: Will this dock work with any laptop? How do I make sure my laptop works with this dock?
A: This dock works with laptops with a USB-C port that supports DisplayPort Alt Mode and Power Delivery. To confirm the USB-C port function of your laptop, consult your user manual or contact your laptop's manufacturer. If your USB-C port doesn't support DisplayPort Alt Mode, you won't receive video output. If your USB-C port doesn't support Power Delivery, the dock will work correctly with video and data (including audio and Ethernet), but would not be able to supply charging to your laptop.
Q2: Do I need to install any drivers to use this dock?
A: No.
Q3: Can I use my own USB-C cable to connect the dock to my laptop?
A: We recommend that you use the 3.2 ft USB-C cable that comes with the dock, however any other USB-C cable with support for USB 3.1 Gen 2 and 100W Power Delivery should work.
Q4: How many monitors does the dock support and what is the maximum resolution supported?
A: This dock supports connection to two external monitors: 1 via HDMI and 1 via DisplayPort.
Single Monitor Resolution: 4K@60Hz (for DisplayPort 1.4) or 4K@30Hz (for DisplayPort 1.2)
Dual Monitor Resolution: 2 x 4K@30Hz (for DisplayPort 1.4) or 2 x 1080p@60Hz (for DisplayPort 1.2).
macOS only supports Single-Stream Transport (SST), and doesn't support Multi-Stream Transport (MST)
Q5: The charging output of the dock is listed as 60W, which is lower than my laptop charger's output. Will the dock still be able to power my laptop?
A: This dock supports up to 60W of charging via the USB-C upstream port on the front of the dock (indicated with a computer icon). It will charge slower than your laptop charger, but it will still charge at a relatively high speed.
Q6: How to deal with screen drop, black screen, or screen flickering issues when connecting to an external monitor?
A: After the dock has just been connected to the external monitor, it's normal for there to be some degree of flickering. It should go away in a little while. If you experience any screen issues after waking up your laptop, restart the dock; If your laptop or the docking station has not been shut down for a long time and you're experiencing screen issues, please restart the dock.
The World's No. 1 Mobile Charging Brand*

200 Million+
200 Million+ Products Sold Worldwide

146 Countries
Available in 146 Countries

10 Years of Innovation
Pioneer in Charging Technology for 10 Years
In terms of retail sales value in 2020.
Data source: Euromonitor International (Shanghai) Co., Ltd., measured in terms of retail sales value in 2020, based on research conducted in 11-2021. Brands are defined as mobile charging brands if more than 75% of their retail sales are contributed by mobile phone charging products. Mobile phone charging products include chargers, wireless chargers, power banks, and charging cables, and these accessories can also be used for other consumer electronics devices.