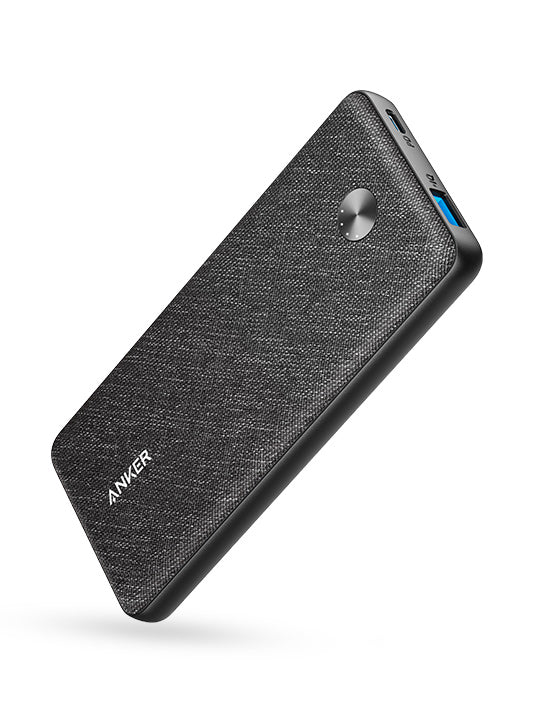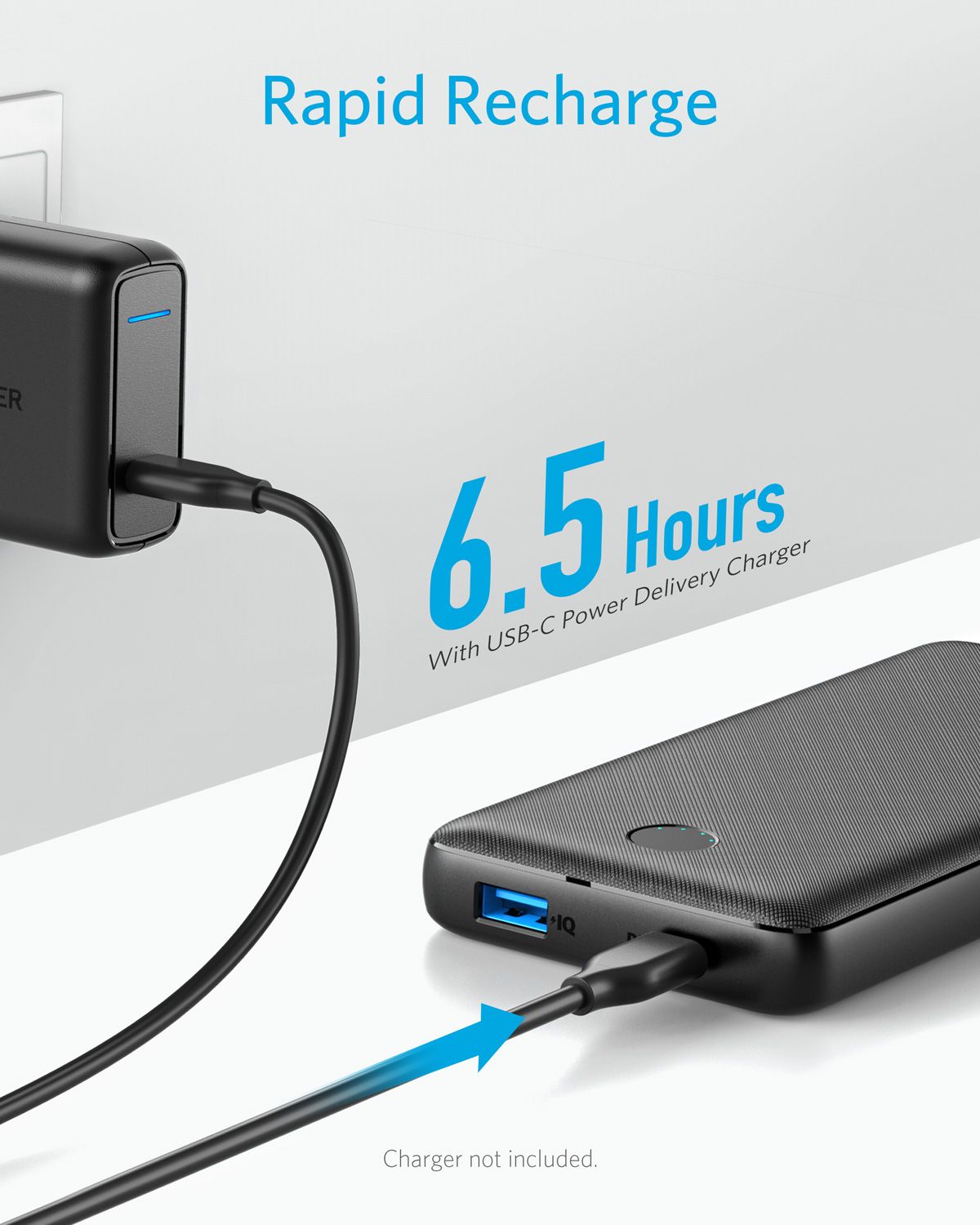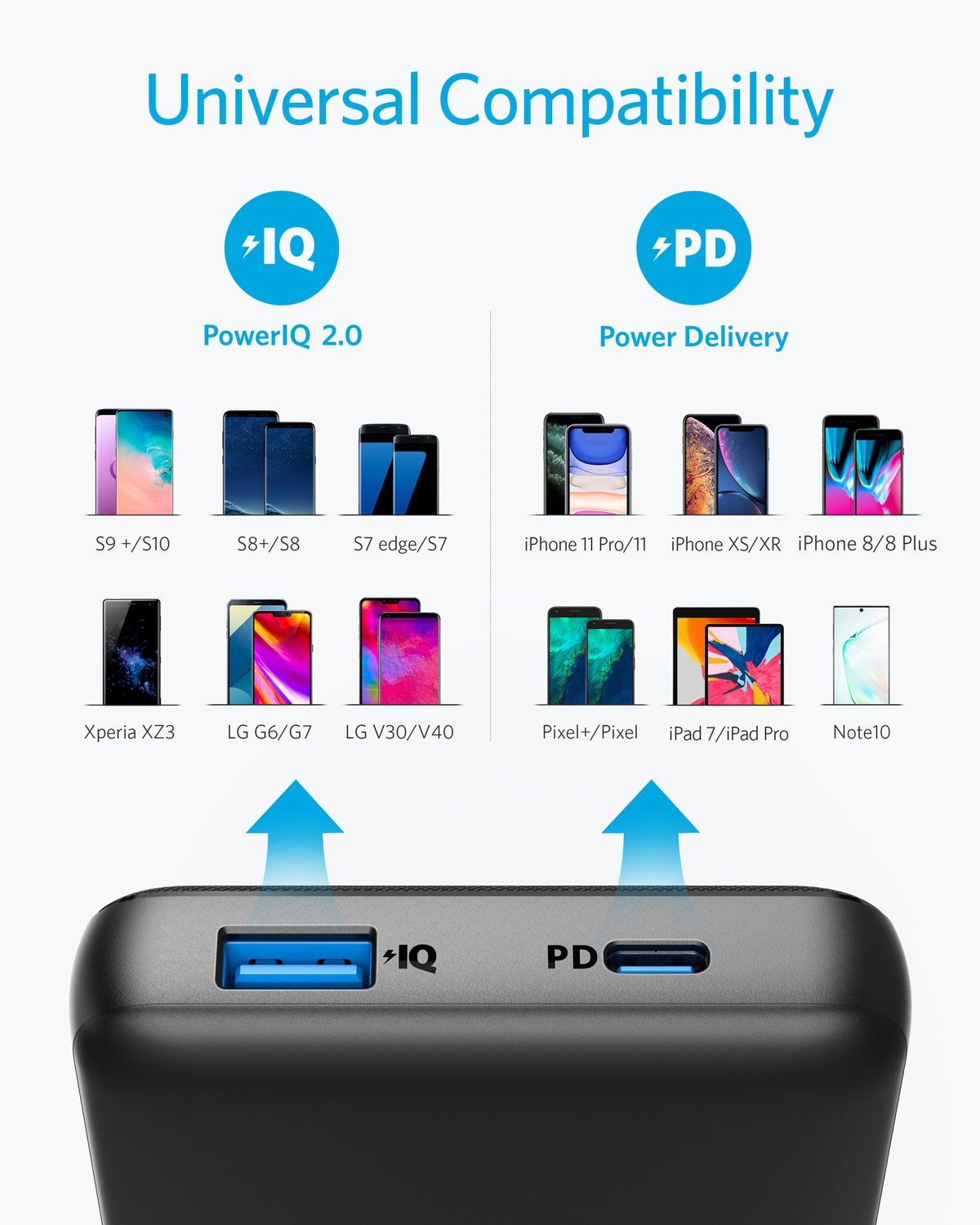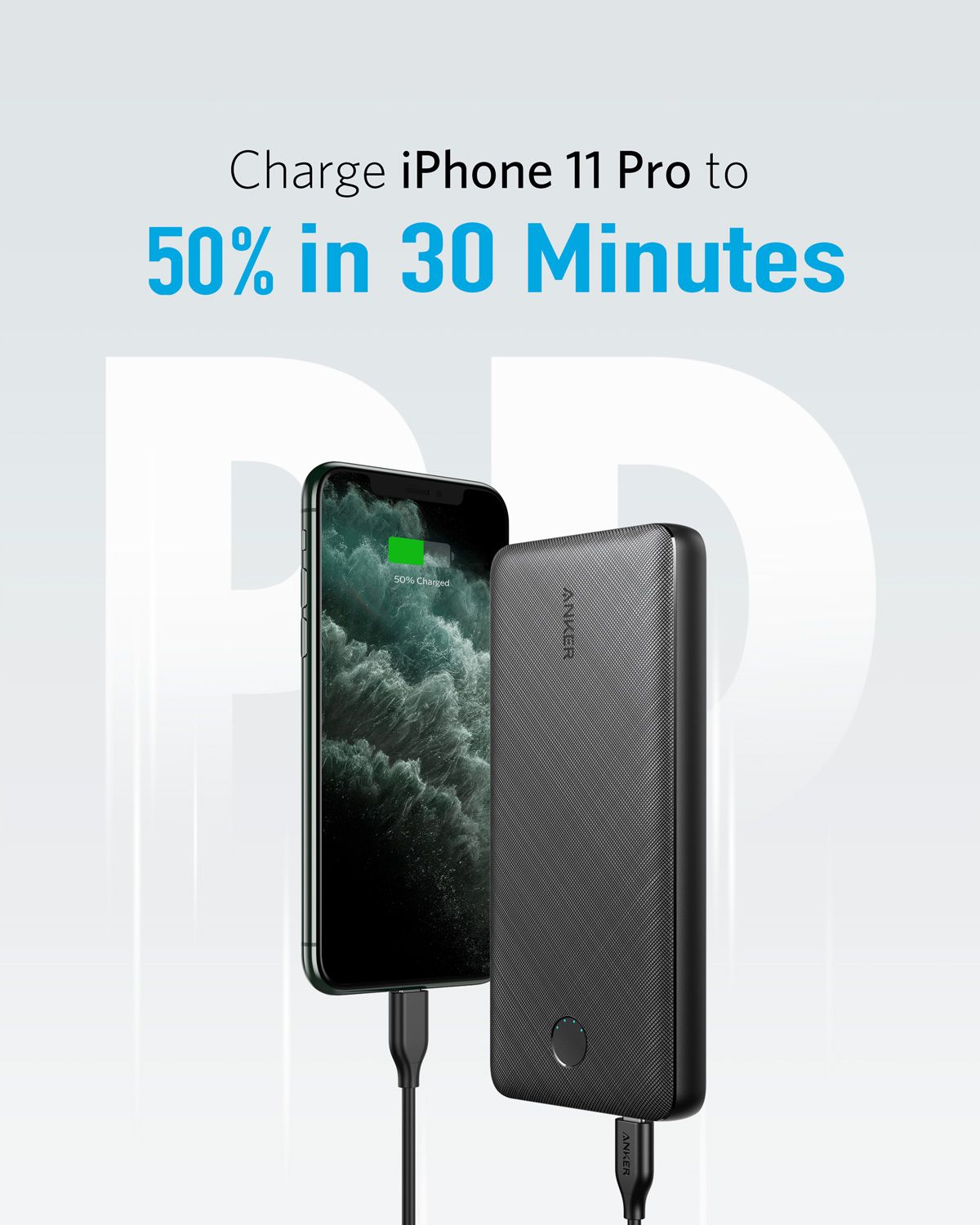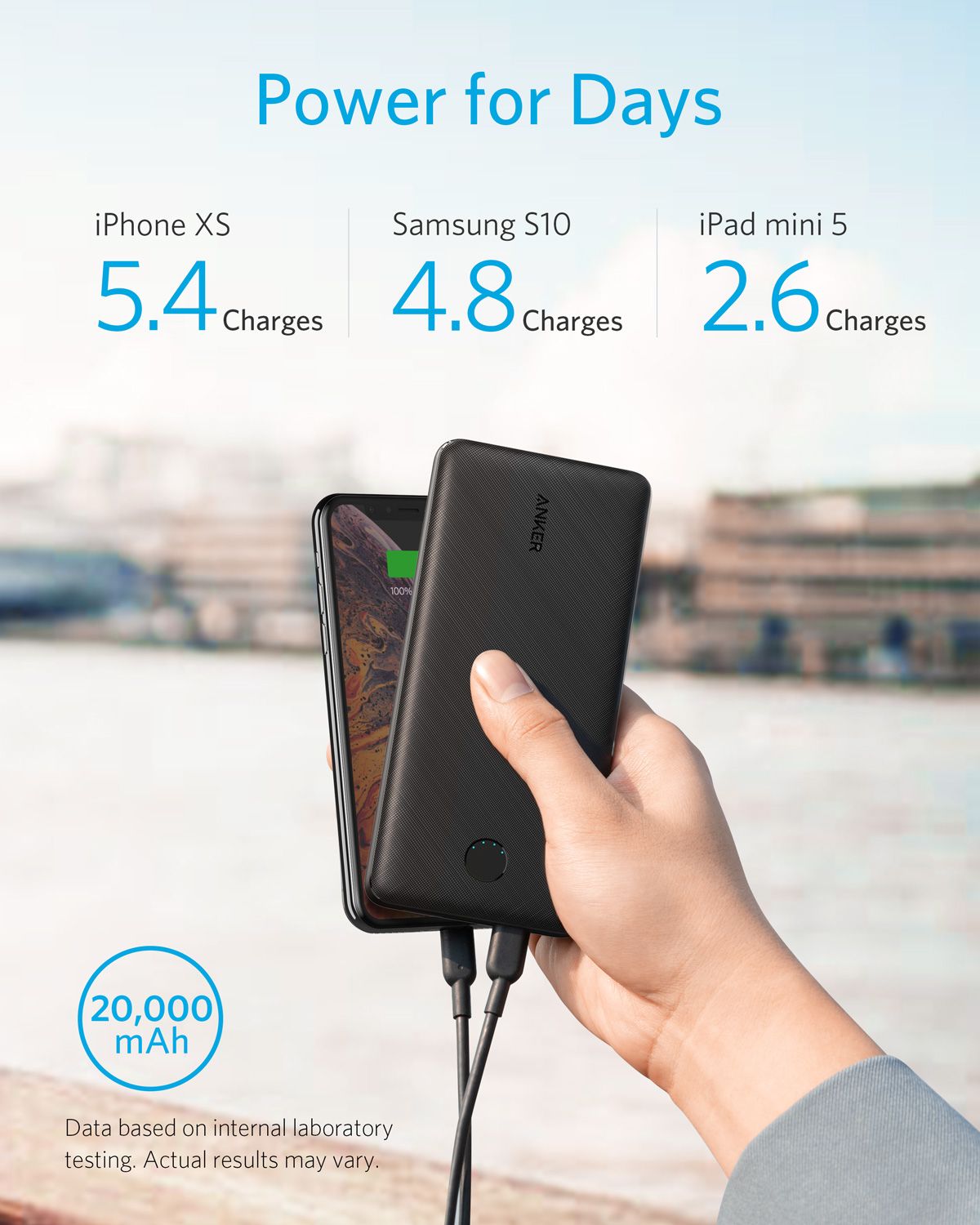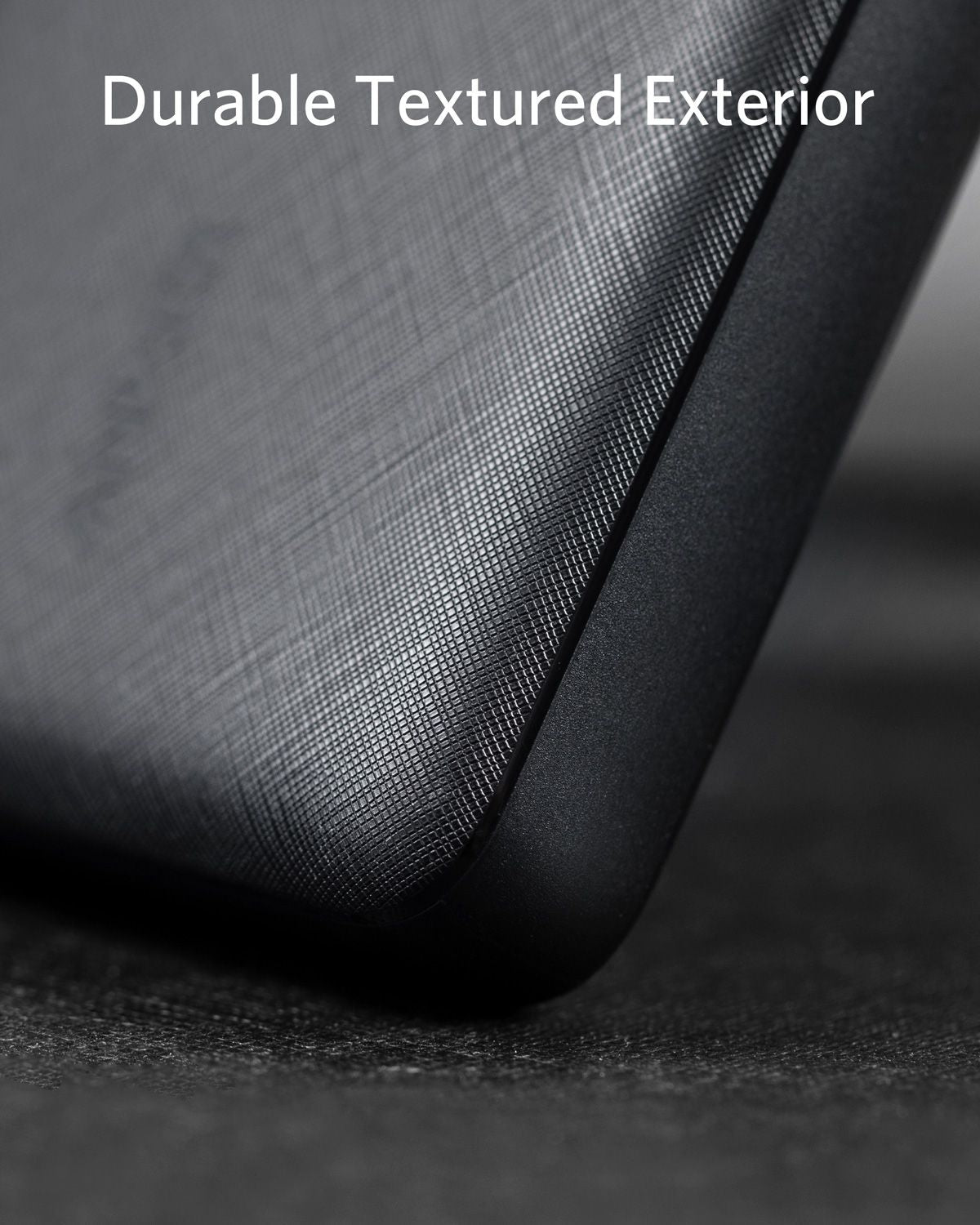 Anker PowerCore Essential 20K PD
The Anker Advantage: Join the 50 million+ powered by our leading technology.

Ultra-High cell Capacity: The massive 20, 000mAh cell capacity provides more than 5 and a half charges for iPhone XS, more than 4 full charges for Samsung Galaxy S10, and over 2 and a half charges for iPad mini 5.

High-Speed Charging: deliver an 18W high-speed charge to phones, Tablets, and more via the USB-C power delivery port or the Qualcomm Quick Charge-enabled USB port.

Rapid Recharge: Pair the included USB-C to USB-C cable with an 18W Power Delivery wall charger (not included) to refuel your PowerCore in less than 7 hours. Please note: Recharging with a normal USB wall charger will take approximately 20 hours.

What You Get: PowerCore Essential 20000 PD, USB-C to C cable, travel pouch, welcome guide, our worry-free 18-month warranty, and friendly customer service. (USB-A to C cable and Power Delivery wall charger not included.)
The Anker Advantage: Join the 50 million+ powered by our leading technology.
Ultra-High cell Capacity: The massive 20, 000mAh cell capacity provides more than 5 and a half charges for iPhone XS, more than 4 full charges for Samsung Galaxy S10, and over 2 and a half charges for iPad mini 5.
High-Speed Charging: deliver an 18W high-speed charge to phones, Tablets, and more via the USB-C power delivery port or the Qualcomm Quick Charge-enabled USB port.
Rapid Recharge: Pair the included USB-C to USB-C cable with an 18W Power Delivery wall charger (not included) to refuel your PowerCore in less than 7 hours. Please note: Recharging with a normal USB wall charger will take approximately 20 hours.
What You Get: PowerCore Essential 20000 PD, USB-C to C cable, travel pouch, welcome guide, our worry-free 18-month warranty, and friendly customer service. (USB-A to C cable and Power Delivery wall charger not included.)
Powerbank Capacity Size
10001 - 20000mAh

Number of Ports
2

Powerbank Features
Fast Charging

Input Type
Type C

Battery Capacity: 20000 Milliamp Hours

Batteries: 1 Lithium Polymer batteries required. (included)

Connector Type: USB C, Lightning

Total USB Ports: 1

Special Features: Fast Charger, Portable

Compatible Phone Models: iPhone models, Android Phones

Product Dimensions: 6.38 x 2.91x 0.98 inches

Item Weight: 12.2 ounces
Compatible with iPhone 11/12/12Mini/12 Pro/12Max Pro/XS / XS Max / XR, Android smartphones and tablets (including the Nexus 7), and other USB devices.
USB-A to USB-C cable, Lightning cable, and wall charger not included.
When the trickle-charging mode is on, the last LED light will remain green, regardless of battery status.
Recharging via USB-A charger will take approximately 20 hours.
When charging an iPad, make sure the portable charger has at least 2 LEDs illuminated, otherwise charging speed will be insufficient
20,000mAh is the total of the nominal rated capacity of internal battery cells.
The World's No. 1 Mobile Charging Brand*

200 Million+
200 Million+ Products Sold Worldwide

146 Countries
Available in 146 Countries

10 Years of Innovation
Pioneer in Charging Technology for 10 Years
In terms of retail sales value in 2020.
Data source: Euromonitor International (Shanghai) Co., Ltd., measured in terms of retail sales value in 2020, based on research conducted in 11-2021. Brands are defined as mobile charging brands if more than 75% of their retail sales are contributed by mobile phone charging products. Mobile phone charging products include chargers, wireless chargers, power banks, and charging cables, and these accessories can also be used for other consumer electronics devices.